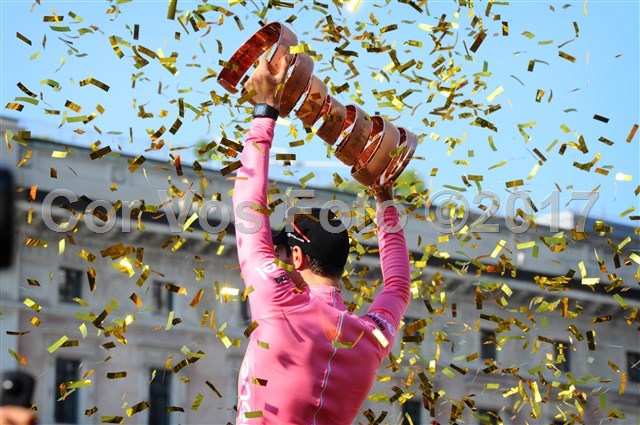 39
… jeden z ładniejszych Wielkich Tourów.
Podejrzewam, że dla kibiców był to jeden z ładniejszych Wielkich Tourów ostatnich lat. Niepewność co do miejsc zawodników i to na całym podium do ostatniego kilometra wyścigu zdarza się bardzo rzadko. Do tego jeszcze oddajmy słuszność zwycięzcy, był najlepszy. To znaczy najrówniejszy. Tom był najlepszy na czas, wygrał jedną z czterech met pod górę, był atakowany z góry i zmierzył się z przeciwnością losu czy niedomaganiem zdrowotnym, nazwijmy jego rozwolnienie jak chcemy. Mimo to wygrał. I tylko chyba Nibali szukając usprawiedliwienia dla swojej pasywnej jazdy potrafił po etapie do Ortisei, nafaszerowanym dużymi górami, powiedzieć, że trasa etapu nie była odpowiednia dla "górali".
Prawdą jest, że Dumoulin stracił tylko trochę ponad minutę na Piancavallo do Quintany i to była jego jedyna konkretna strata, pomijając Stelvio, gdzie po problemach żołądkowych jechał tak szybko jak czołówka, wjeżdżając i zjeżdżając nieco wolniej od najlepszych. A "górale"? W ostatnim tygodniu na 5 etapach licząc tylko premie 1. i 2. kategorii mieli ponad 12000 metrów przewyższenia. Czy to wykorzystali, żeby zgubić Holendra? Tak słabego Nairo w trzecim tygodniu chyba nigdy nie widzieliśmy. Może na zeszłorocznym Tour de France. Na najważniejszych etapach i Kolumbijczyk i Nibali najchętniej chowali się za swoimi gregario. Również Vincenzo zapomniał już jak to wygrywając Tour de France kręcił nogami dwa razy szybciej od innych siedząc spokojnie na siodełku z zamkniętą buzią. Na tegorocznym Giro nie raz mogliśmy go zobaczyć jak pedałował właściwie całym ciałem, a i łapał powietrze "czym" popadło. O jak bardzo na etapie do Ortisei brakowało mi Contadora, który na 100% zaatakowałby od dołu Pordoi i usiadł na siodełku dopiero na szczycie.
Chce powiedzieć, że w Italii oglądaliśmy bardziej ludzką stronę tak Nairo jak i "Rekina z Messyny", który swoje zęby pokazywał jedynie w wywiadach, ale na szosie już nie.
Trzeci tydzień pokazał też spore obniżenie watów kręconych przez zawodników. Na przykład Umbrail Pass pokonany został ze średnią 5,5 W/kg, Monte Grappa w swojej cięższej części oraz finałowa Foza 5,7 W/kg. Niemal identycznie Piancavallo 5,6 W/kg, całość trochę mocniej od polowy, od ataku Pinota. Właściwie też na żadnym podjeździe najlepsi nie wspinali się szybciej niż 1600 metrów VAM. No i jedyne co to wolałem widzieć na podium właśnie Francuza. Zresztą obok niego Zakarin i Pozzovivo byli dużo bardziej aktywni niż dwóch pozostałych zawodników z podium, których ataków nigdy się nie doczekaliśmy.
Nie sposób nie wspomnieć Janka Hirta. Dzięki niemu dla mnie Giro było jeszcze bardziej emocjonujące. W kilku wcześniejszych tekstach, nawet przed Giro wspominałem, że wierzę w jego dobry występ i się nie zawiodłem. Bardzo silny zawodnik, który dopiero co poznaje swoje limity. Zaimponował wielu ludziom ze środowiska swoją jazdą na wysokim poziomie przez cały ostatni tydzień. Etap wygrany przez TJ mógł być spokojnie jego, ale… przyjdzie czas i na niego żeby etapy na Giro wygrywał. Z Jankiem jestem w dosyć częstym kontakcie i cieszę się, że od początku roku jak i w trakcie Giro chciał korzystać z mojego doświadczenia. Mam nadzieję, że wybierze najlepszą dla siebie drużynę na kolejny sezon bo propozycji z World Touru raczej mu nie brakuje.
Dumuolin pokazał nam też sporą determinację w dążeniu do celu. Po przegranej Vuelcie dwa lata temu wsadził sobie do głowy, że będzie pracować nad Wielkimi Tourami i idealnie mu się to udało. Pokazał, że niekoniecznie jak się straci zbędne kilogramy, to trzeba stracić siłę pod gorę. Udowodnił, że można wygrać Giro właściwie bez drużyny, swojej. Bo przecież Movistar pięknie na niego pracował. Później zawsze znalazł tych, którzy dla wspólnego interesu okazali się pomocni i jemu. Zwróciłem uwagę, że był liderem z najmniejszą ilością startów przed Giro. Zaledwie 14, to prawie połowę mniej niż Nibali i pozostali. Czy to też mogło mieć znaczenie w trzecim tygodniu? Na pewno.

Wszystkie teksty, rysunki, zdjęcia oraz wszystkie inne informacje opublikowane na niniejszych stronach podlegają prawom autorskim Sylwestra Szmyda. Wszelkie kopiowanie, dystrybucja, elektroniczne przetwarzanie oraz przesyłanie zawartości bez zezwolenia Sylwestra Szmyda jest zabronione.