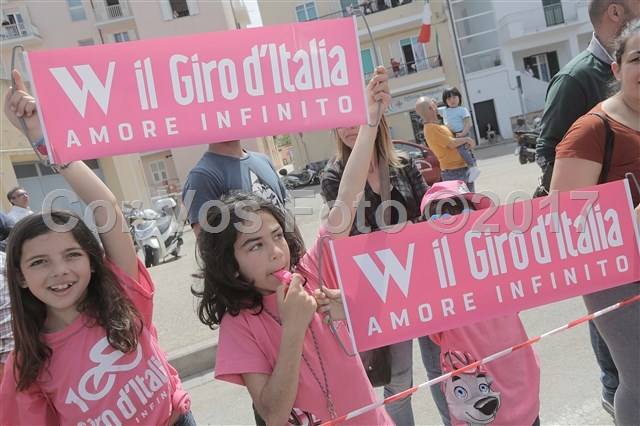 42
Tak wiec rusza Giro…
100 Giro d'Italia. Muszę się przyzwyczaić do myśli, że Giro rusza beze mnie. Proszę uwierzyć, że po dwunastu przejechanych edycjach, był to dla mnie najważniejszy wyścig w sezonie. Nie bez znaczenia zostaje fakt, że jedenaście razy w barwach włoskiej drużyny. Myślę, że ciężko w słowach wyrazić czym jest Giro dla Włochów, dla ekipy i jej sponsora, zawodników, obsługi i w końcu samych kibiców. Dla mnie start w Giro był takim wyróżnieniem jak możliwość założenia narodowej koszulki, niestety w Giro startowałem częściej.
 
Nawet jeśli jestem pierwszym który mówi, że kolarstwo już dawno straciło swój romantyzm, to Giro w mojej głowie pozostaje najpiękniejszym wyścigiem świata, dającym mnóstwo pozytywnych emocji zawodnikom i kibicom.
Niby skończyłem ścigać się wczoraj a pierwsze Giro przejechałem bez kasku na głowie, w kolejnym jechałem u boku żyjącej legendy Pantaniego. To z Pantanim najbardziej kojarzy mi się tegoroczna trasa Giro. Dwie z czterech końcówek pod górę, Oropa i Piancavallo. Nie mogę nie przypomnieć jednych z najpiękniejszych akcji w historii kolarstwa których autorem był właśnie Marco. Szczególnie Oropa, gdzie po defekcie u podnóża podjazdu Panta mknąc do góry wyprzedził czterdziestuośmu kolarzy i wygrał "na solo" etap.
Etna która będzie pierwszą metą pod górę przypomina mi Contadora z 2011 roku który dobitnie pokazał wszystkim, że zamierza wygrać Giro, ale również, a może i bardziej kojarzy się z arancini i cannoli, sycylijskimi przysmakami które stały się stałym elementem diety na naszych zgrupowaniach na Sycyli przed Giro.
Blockhaus, druga meta pod górę w tym roku myślę będzie tym podjazdem który powinien dać odpowiedz kto Giro nie wygra. Dla mnie był to najlepszy etap w historii moich startów w Giro. Tylko z małego powodu nie dojechałem z Pellim który zwyciężył w 2009 roku, finiszując mimo to w top10.
Z mojego punktu widzenia większe znaczenie dla klasyfikacji generalnej wyścigu odegrają etapy szesnasty i przede wszystkim osiemnasty. Powtarzane po sobie długie podjazdy w trzecim tygodniu wyścigu. Sam start z Sardyni bajkowy, pamiętam rok 2007, podobnie przeprawa przez pld. Italii z pięknym morzem w Pugli dla nas kibiców będzie pięknym widowiskiem, które może zamienić się w koszmar dla kolarzy jeśli zacznie padać deszcz.
 
Wśród głównych pretendentów do zwycięstwa stawiam tych którzy celują w podium, ale tylko w najwyższy jego stopień, Quintana i Nibali. Z niecierpliwością będę wypatrywać liderów SKY w których nigdy nie wierzyłem. Liczę na wyścig życia Mollemy i VanGarderena który wiem, że pracował bardzo ciężko z myślą o Giro od samego grudnia. Wierzę w podium Zakarina a moim czarnym koniem jest Pinot. Myślę, że góry Giro są mu bardziej na rękę niż te z TdF. Bo drodzy czytelnicy ja zawsze uważałem, co już pokazał np. Pereiro w 2006r, że Tour można wygrać przy odrobinie szczęścia, ale Giro niestety już nie. Dolomity nie wybaczają chwili słabości.
 
Tak wiec rusza Giro, a ja przenoszę się do moich pierwszych w nim startów, do postojów na trasie organizowanych przez kibiców. Do stołów wzdłuż trasy zastawionych lodami, ciastkami, tortami, prosecco dla peletonu który się zatrzymywał. Myślę o peletonie gdzie Cippolini czy Bettini w koszulce tęczowej byli autorytetami. Myślę również o emocjach które dały mi dwa zwycięstwa w Giro z liderami. Emocje po 21 dniach ciężkiej pracy których ani nie da się opisać ani tym bardziej kupić.
 
Na koniec, mam nadzieję, że Goły, Maniek i Pater z Łysym (Łukasz Owsian) odważą się szukać swojej szansy na etapach dla uciekinierów których myślę będzie sporo. Wierzę że Janek Hirt wygra etap bo pokazał już, że jest silny w górach i stać go na to.

Wszystkie teksty, rysunki, zdjęcia oraz wszystkie inne informacje opublikowane na niniejszych stronach podlegają prawom autorskim Sylwestra Szmyda. Wszelkie kopiowanie, dystrybucja, elektroniczne przetwarzanie oraz przesyłanie zawartości bez zezwolenia Sylwestra Szmyda jest zabronione.