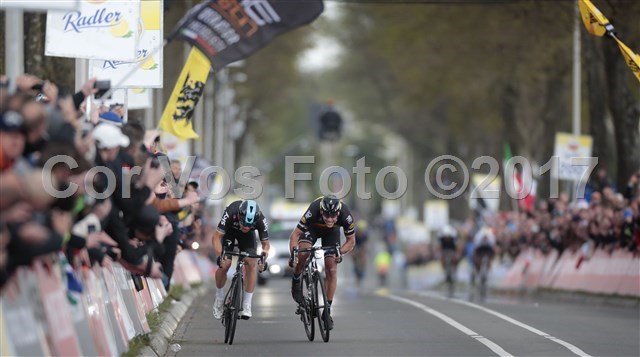 36
…wiosennie.
Tak jak po Milano Sanremo słyszeliśmy, że była to jedna z najciekawszych edycji ostatnich lat tak samo myślę o niedzielnym Amstel Gold Race. Na pewno zmiana trasy sprawiła, że kolarze nie wiedząc gdzie się wyścig może mieć decydujące momenty, starali się go rozegrać tam gdzie każdemu było najwygodniej.
I tak Gilbert nie musząc czekać na Cauberg by wygrać kolejne Amstel wymyśla sobie akcje daleko do mety. Tak jak na Flandres, jego zwycięstwo to mix super kondycji, szczęścia, odwagi i błędów popełnionych przez rywali. Tutaj niestety pojawia się Kwiato. Po kolejnym perfekcyjnym wyścigu, inteligentnym przejechaniu 261km na ostatnich 300m zabrakło mu zimnej krwi. Długi finisz, pod wiatr i to przeciwko komuś kto nie jest przyzwyczajony przegrywać jak już walczy o zwycięstwo. Czy to błąd Michała? Z punktu widzenia Gilberta tak, ja uważam, że to lekcja z której wyciągniemy wnioski by w przyszłości cieszyć się zwycięstwami.
Trochę cyferek, w akcji dnia, czyli przeskoku do czołówki pod Keutenberg Michał przez minutę ile mu zajęło by odjechać Valverde i Van Avermetowi kręcił ze średnią ponad 8W/kg. Na samym finiszu pik mocy bardzo zbliżony do tego jak na Sanremo, ale średnia watt już dużo niższa. Wiadomo wyścig cięższy a i sam finisz dłuższy. Tak czy inaczej ostatnie 20 sekund to ponad 850 W średnich u Michała.
Fleche Wallonne jak przewidziałem było bardzo… przewidywalne. W moim odczuciu dosyć nudnawa końcówka, finisz z większej grupki bez ataków na samym podjeździe. Oczywiście dlatego iż tempo było bardzo wysokie. Ostatnie 800m najlepsi wjechali z prędkością pionowa 2500VAM, co znaczy, że kolarze kręcili około 7,5W/kg a sam finisz 200m tzn. finałowe 30sekund zwycięzca przejechał naciskając na pedały blisko 9W/kg.
Chorwacja. Wczorajsza pierwsza meta pod górę to bardzo ładna postawa kolarzy CCC, czterech w top11. Janek Hirt mocny chociaż nie zrozumiałem jego końcowej akcji, całkowicie jakby nie chciał wygrać. Dla mnie było to bardzo bez sensu bo jestem przekonany, że gdyby tak zaatakował 200m później to by wygrał wczorajszy etap. Na szczęście jest jeszcze jedna meta pod górę. Nibali jakoś strasznie nie wygląda, inni też nie odbiegają poziomem tak wiec wierze, że mój były kolega może wygrać całą Chorwację.
Sam podjazd był bardzo leniwie wjechany, w rytmie treningowym ok 1500 VAM od dołu do ostatnich 5km. Ostatnie 3km to już ściganie na najwyższym poziomie, 1750 VAM i 6,3W/kg dla Janka który zasługuje swoją jazdą w górach by jeździć w ekipie WordTour już od minimum 2lat.

Wszystkie teksty, rysunki, zdjęcia oraz wszystkie inne informacje opublikowane na niniejszych stronach podlegają prawom autorskim Sylwestra Szmyda. Wszelkie kopiowanie, dystrybucja, elektroniczne przetwarzanie oraz przesyłanie zawartości bez zezwolenia Sylwestra Szmyda jest zabronione.