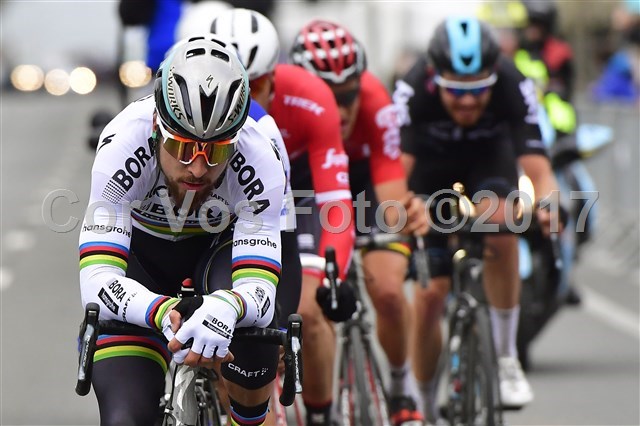 46
Miniony tydzień
Miniony tydzień przyniósł nam pierwsze pół klasyki belgijskie. Mimo, że do najważniejszych musimy jeszcze trochę poczekać to oczekiwani faworyci byli już z przodu. Omloop premiuje Mistrza Olimpijskiego który pokonuje na finiszu dużo więcej pracującego na koniec wyścigu Mistrza Świata.
Kuurne to arcyciekawa końcówka i tak myślę o ile często słychać, że Sagan nie ma drużyny to w niedziele widzieliśmy, że nawet będąc samemu poradził sobie z BMC. Pomimo, że mieli w czołowej grupce 4 kolarzy, przespali właściwy pociąg i nic więcej nie byli w stanie zrobić. Sam finisz to pokaz mocy Petera. Pik mocy 1600 watt i właściwie zwycięstwo na solo, mnie osobiście zaimponował Stuyven, talent i dobrze ścigający się kolarz.
Abu Dhabi zgromadziło większość górali którzy walczą na Wielkich Tourach. Spodziewałem się super walki herosów a tu niezrozumiała dla mnie jazda Contadora za Nairo. Całkowicie jakby nie czując się samemu na zwycięstwo, nie chciał by Nairo wygrał. Z tego czarowania skorzystali inni w tym i Rafał Majka, który bardzo ładnie skończył wyścig. Myślę jednak, że wciąż jeździ zbyt zachowawczo w stylu: "jestem super to walczę o wygranie, jestem na 80procent to jadę gdzie mnie nogi poniosą". Mówię tak bo nie wierzę, że Zakarin czy Rui byli mocniejsi od Polaka. Obaj jednak, a szczególnie Rui Costa potrafi bardzo często rozgrywać wyścigi na swoją korzyść właśnie bardziej ryzykowaniem, próbowaniem, bardzo dobrym czytaniem wyścigu czy też sprytną jazdą a nie tylko tym co ma pod nogą. Dobry to jednak prognostyk dla Rafała bo przed nim teraz dwa miesiące ważnych startów gdzie jest dużo okazji do wygrywania.
 
W sobotę Strade Bianche, faworytów mam dwóch, dwóch Mistrzów Świata. Nawet jeśli uważam, że Michał wejdzie na najwyższy poziom po przejechaniu Tirreno i będzie w pełnym gazie właśnie tam gdzie chciał być w tym sezonie.