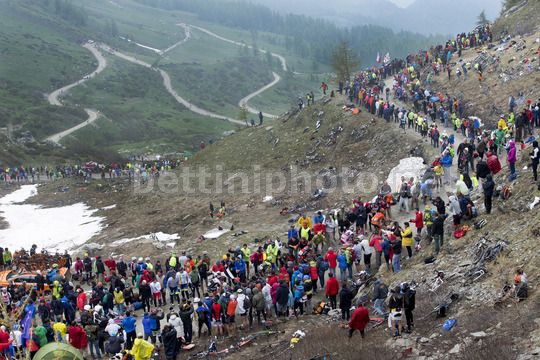 45
I po Giro
Etap do Sestiere trochę spokojniejszy niż ten dzień wcześniej. Na podjeździe pod Col delle Finestre nie czułem się źle, próbowałem przetrzymać najlepszych jak najdłużej ale już chyba głowa "się nie kręciła" jak należy. Mam już zmęczoną głowę, musze odpocząć.
Niedzielny etap długi i na rundach oczywiście bardzo szybko. Dwunaste Giro skończone. Może nie ułożyło się jak chciałem, ale o tym na dniach. Jakoś to poukładam i coś napiszę.
Giro di Vino. "Król win, wino królów", czyli oczywiście Barolo. Nie jechaliśmy w okolicy, najbliżej był Turyn, start ostatniego etapu ale to moje właśnie ulubione wino. Do Piemontu jeżdżę dosyć często odwiedzając wciąż nowych producentów. Mali czy więksi, ale w większości sami pasjonaci, ludzie żyjący swoją ziemią i winem które robią sami. Nie enolodzy, winemakerzy, ale oni sami. Barolo jest produkowane ze szczepu Nebbiolo w jedenastu gminach. Dojrzewa minimum dwa lata w dużych beczkach lub francuskich barriques. Bardzo złożone, wielkie wino o dużych walorach organoleptycznych. Wino nie jest łatwe i nie radzę podchodzić do niego jak do przeciętnej butelki wina. Wymaga koncentracji, skupienia, pasji ale jak się je zrozumie to ciężko nie być mu wiernym później. No i odradzam zdecydowanie supermarketowe wersje nie mające z Barolo nic wspólnego, zachęcam raczej odwiedzenie któregoś z producentów przy najbliższej wycieczce do Italii.