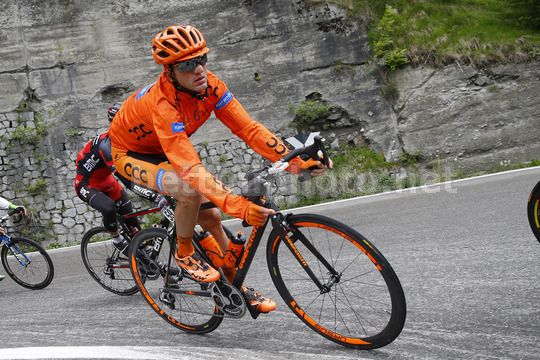 46
Dziś od startu do mety znów wysokie tempo
Pod górę, z góry a na krótkich płaskich odcinkach wciąż wycisk totalny. Poszedłem w odjazd jak założyłem od dołu i cały podjazd odjeżdżaliśmy kiedy to Saxo postanowiło skasować nas krótko przed samą premią górską. Pewnie było nas za dużo. Później kontra i pojechało 10 osób.
Mortirolo zacząłem z Contadorem, blisko minutę za pierwszą grupą. Noga już była podmęczona, głowa uciekła będąc z tyłu a i ja chciałem zgrywać fenomena i pewnie jako jedyny w całym peletonie nie założyłem kompaktu na przód a tzn, że przepychałem cały czas w rytmie ok 50obr/min. Niby nie czuje się źle, ale powiem szczerze, jak Astana i Saxo zaczynają swoją karuzelę to nie jest to rytm dla mnie.
Giro di Vino. Valtelina DOC. Najważniejsze wina to zależnie od miejsca winnic Grumello, Inferno, Sasella i najważniejsze wino Valteliny czyli Sfursat. Wszystkie wina są produkowane ze szczepu Nebbiolo, tego samego z którego powstaje słynne Barolo. Sfursat natomiast jest produkowany praktycznie w identyczny sposób jak opisywane przeze mnie Amarone. Wina na prawdę ciekawe a jako, że mniej znane, również jego cena jest dużo niższa. Będąc na rekonesansie etapu Mortirolo miesiąc temu odwiedziłem winnice Plozza i kupiłem ich Sfursat poniżej 20€. Tak więc jeśli ktoś będzie chciał poznać znakomite wino ze znakomitego szczepu to zapraszam w okolice Tirano. Tym bardziej, że winnice położone są na stokach Alp, prawdziwe tarasy z winnicami.