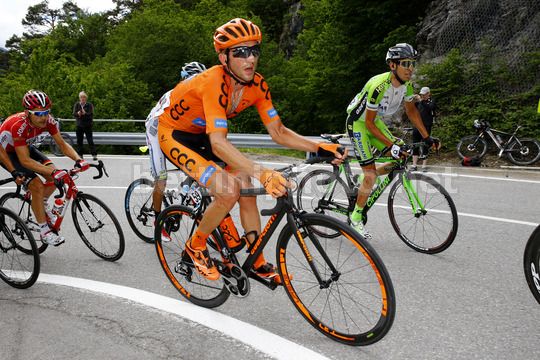 292
Noga dziś kręciła się dobrze
Na początku chciałem zabrać się w odjazd, ale jak ruszyły kontry i zrobiło się bardzo mocne tempo to trudno było nadążyć – opowiada Sylwester Szmyd.
Na zjeździe z Passo Daone przed Intxaustim zrobiła się przerwa. Myślę, że to było zagranie taktyczne, bo za nim jechało kilku kolarzy groźnych dla jego ekipy w generalce. Nie udało mi się go wyprzedzić i zostałem z tyłu. Zjazd był bardzo kręty, wąski i trudny technicznie, choć znałem go bardzo dobrze. Byłem tam kilka tygodni temu, zrobić rekonesans tego i wtorkowego etapu. Pokonałem ten zjazd na rowerze, miałem go nawet nagranego na video. Nie zawsze jednak można wszystko przewidzieć. Szansa na "10" na pewno dziś było. Etap dał mi jednak trochę spokoju, bo noga była ok.
To Giro ułożyło się tak jak się ułożyło i może to nawet dobrze. Gdybym tych strat nie poniósł z powodu upadku i problemów zdrowotnych w pierwszych dniach, to bardzo prawdopodobne, że poniósł bym je na tych deszczowych, niebezpiecznych odcinkach. Nie jest tajemnicą, że nie czuję się dobrze w takich warunkach. Gdybym stracił dobrą pozycję po drugim tygodniu, to byłoby to bardziej bolesne psychicznie. Mój plan na drugi tydzień był taki, by bezpiecznie i spokojnie dojeżdżać do mety, nie myśląc w ogóle o klasyfikacji i skupić się na trzecim tygodniu. Zawsze czułem się dobrze pod koniec Grand Tourów. Będę walczyć i celem jest to by, pozostawić po sobie ślad w tym wyścigu. Wygrać będzie oczywiście ciężko, ale chciałbym zaznaczyć swoją obecność, "oddychać tym samym powietrzem" co faworyci. Zobaczymy jak będzie się sytuacja na następnych etapach układać i będziemy planować na bieżąco. Noga jest.
Kolejna szansa we wtorek. Warto by było pójść w odjazd, choć taki sam plan ma pewnie ok. 70 kolarzy. Początek jest od razu pod górę, więc pierwsze kilkanaście kilometrów będą bardzo ciężkie. Ucieczka może dojechać, jeśli nie do mety, to na pewno daleko. Dobrze byłoby zacząć ostatni podjazd z przodu, z jakimś zapasem. Przedostatnia góra to słynne Mortirolo, które nie wybacza słabości. Tam wszystko się rozegra. To jest wyjątkowa góra. Być może najsłynniejsza we włoskim kolarstwie,. Zawsze jest tam mnóstwo kibiców, podnosi się adrenalina i najmocniejsi na pewno nie przejadą jej spokojnie.
źródło: cccsport.eu