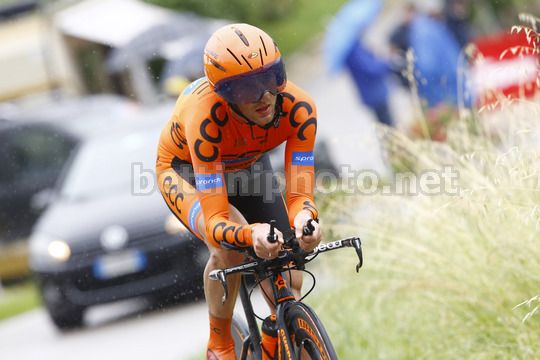 91
Długa i mecząca czasówka…
… dla kogoś jak ja, który nie ma szans na dobry wynik nawet jak by się połowa ludzi wywróciła, ani nie walczy o generalkę. Po czasówce jest jak się spodziewałem, mamy lidera z konkretną przewagą i pewnie do końca wyścigu będzie pełna kontrola.
Co prawda na początku wyścigu myślałem, że to będzie Porte a nie Contador. A tak mamy niewygodnego asa do walki o etapy. Mam parę etapów na których będę chciał zaznaczyć swoją obecność na tym Giro. Coś trzeba wymyślić. Głowa jest, zobaczymy jak z nogami.
Giro di Vino. Czasówka kończyła się w stolicy Prosecco. Większość czytelników tej części moich wpisów na pewno znakomicie zna to lekkie musujące wino włoskie. Bardzo przyjemne w piciu, idealne jako aperitif lub do deseru. Powstaje w 9 gminach dwóch regionów: Veneto i Friuli Venezia. Powstaje tzw. metodą Charmat (lub Martinoti), czyli trochę inaczej niż np. Champagne. Polega to na tym, że wino staje się musujące przy fermentacji w dużych zamkniętych kadziach w ciągu kilkudziesięciu dni. Dziś jest ponad 8000 producentów tego wina i sprzedaje się blisko 200 milionów butelek rocznie. A od 2013 roku nawet więcej niż samego Champagne! Powiem jeszcze, że sam na weselnym stole do wznoszenia toastu miałem Prosecco produkowane przez mojego wtedy jeszcze kolegę klubowego Marzio Bruseghina.