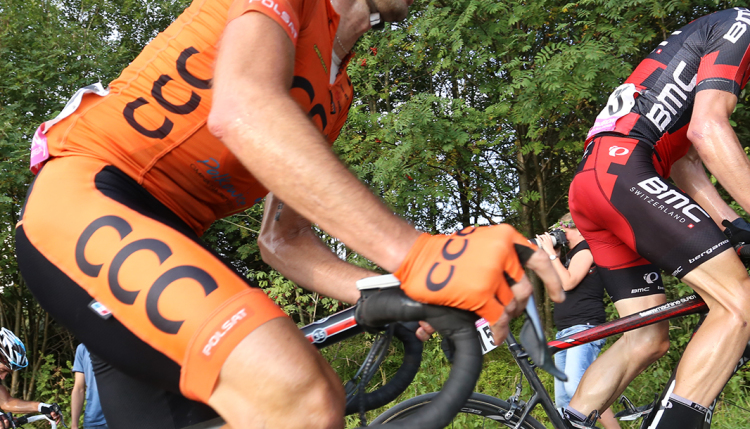 66
Z polskim kolarstwem tak dobrze jeszcze nie było
KAMIL WOLNICKI: Dzięki dzikiej karcie od organizatorów CCC Sprandi Polkowice pod pana kierownictwem wystartuje w tegorocznym Giro dItalia. Marzenia się spełniają.
PIOTR WADECKI: O spełnieniu marzeń będziemy mogli mówić, gdy wystartujemy w Tour de France. Start w Giro traktuję jak kolejny krok w tym kierunku. Sam, jeszcze jako zawodnik startowałem w Tourze i teraz chcę poprowadzić w tej imprezie grupę jako dyrektor sportowy. I jesteśmy na dobrej drodze, aby to się spełniło.
Za ile lat Tour będzie realnym celem?
PIOTR WADECKI: Myślę, że za dwa-trzy lata. To optymistyczny wariant, ale robimy wszystko, aby się sprawdził.
Wróćmy do Giro. Co taka grupa, jak CCC Sprandi Polkowice, może dać Giro dItalia?
PIOTR WADECKI: Ciekawe koszulki i wizerunek, który zapamietają kibice. Nadamy kolorytu tej imprezie. Ostatni raz kolarze ubrani na pomarańczowo startowali w czasach Euskaltel-Euskadi. A nasz pomarańcz jest nawet ładniejszy.
Pytam o sport.
PIOTR WADECKI: Przede wszystkim mamy Sylwestra Szmyda, który dołączył do naszej grupy po latach spędzonych w najlepszych ekipach świata. Startował w tej imprezie jedenaście razy, za każdym razem jako pomocnik największych gwiazd. Myślę, że kiedy dostanie szansę jazdy jako lider, stać go na niezły wynik. I pewnie tę szansę dostanie. Gdyby prezentował się tak, jak w najlepszych latach, może utrzymywać tempo wszystkich innych w górach i skończyć wyścig wysoko w klasyfikacji generlanej.
Co to znaczy wysoko? Pierwsza dziesiątka to wasz cel?
PIOTR WADECKI: Byłoby idealnie! To wielkie wyzwanie, ale jeśli nic złego się nie wydarzy w trakcie przygotowań i samego wyścigu, a Sylwek trafi z formą, stać go na taki wynik.
Bardziej interesuje was klasyfikacja generalna czy poszczególne etapy?
PIOTR WADECKI: Zobaczymy jak będzie się układał wyścig po pierwszych odcinkach. Sylwek pewnie będzie jechał z myślą o klasyfikacji generalnej, a resztę ustawimy tak, aby mieli szansę w ucieczkach. Typowego sprintera nie mamy, więc nie ma szans, aby ktoś walczył o zwycięstwo, gdy do mety dojeżdża cały peleton, ale będą inne możliwości. Przecież Giro trwa trzy tygodnie i kilka ucieczek zawsze dojeżdża do mety. Klucz w tym, aby znaleźć się w tej odpowiedniej. Mamy naprawdę ciekawy skład i jest z kogo wybierać. Są młodzi, głodni sukcesów i ścigania z najlepszymi, ale też doświadczeni kolarze, którzy wiedzą jak ścigać się w takich imprezach.
Jaki dystans dzieli CCC Sprandi Polkowice od takich kolarskich potęg jak Sky czy Tinkoff-Saxo?
PIOTR WADECKI: Wizerunkowo nie mamy do nich daleko. Tabor pojazdów i zaplecze mamy na porównywalnym poziomie. Swoją drogą, dzięki firmie CCC budujemy w Polkowicach bazę, której nie ma pewnie żadna grupa na świecie. Sportowo jest jeszcze trochę inaczej, ale w największych grupach jeżdżą zawodnicy, których indywidualne kontrakty były dotąd wyższe niż całoroczny budżet naszej grupy, więc trudno się porównywać pod tym względem. Wiemy, że mamy jeszcze wiele do zrobienia. Ale to dobrze, bo mamy do czego dążyć. No i co ważniejsze, mamy czas, nie musimy robić nic na siłę. Zatrudniamy wielu młodych chłopaków, którzy przy starszych się uczą i może za kilka lat będą mogli walczyć z najlepszymi na świecie.
W kalendarzu startów na ten rok macie nie tylko Giro dItalia, ale i kilka innych wyścigów kategorii World Tour.
PIOTR WADECKI: Mamy też 26 kolarzy w ekipie, więc damy radę wszędzie wystawiać mocne składy. Takie, dzięki którym grupa będzie widoczna.
Myślicie o tym, aby zostać ekipą cyklu World Tour i zamiast walczyć o dzikie karty, mieć prawo do startów we wszystkich największych imprezach z automatu?
PIOTR WADECKI: Na pewno tak, mamy takie marzenie. Dzięki CCC możemy sobie pozwolić na spokojne stawianie kolejnych kroków. Nie musimy już i teraz czegoś osiągnąć. Spokojnie budujemy trwałe fundamenty. Chodzi o to, aby ten nasz dom szybko się nie rozpadł, bo chcemy stworzyć coś trwalego, na lata. Chodzi o kolarzy, fachowców i wszystkim wokół. U nas wszystko rozwija się harmonijnie. Zostało nam już niewiele kroków, aby wejść na stałe do cyklu World Tour.
Na Giro chce pan zabrać przede wszystkim polski skład?
PIOTR WADECKI: Zawsze marzyłem, aby poprowadzić na takiej imprezie polską ekipę, więc bardzo chciałbym, aby w Giro 60-70 procent składu stanowili Polacy. Zobaczymy jednak, w jakiej będą dyspozycji tuż przed wyścigiem, bo poziom sportowy będzie kluczowym kryterium wyboru ekipy. Inna sprawa, że są grupy, które nie przywiązują wagi do narodowości zawodników i w ekipie duńskiej czy francuskiej trzon tworzą obcokrajowcy. Ja chcę jednak, aby mówiło się o nas jako o polskim zespole z polskimi kolarzami, których dodatkiem są obcokrajowcy.
Jak ma wyglądać baza, o której pan wspomniał?
PIOTR WADECKI: Firma CCC rozbudowuje się w Polkowicach i prezes Dariusz Miłek część hal oddał do naszej dyspozycji. Czekamy teraz na ostatnie pozwolenia i na przełomie stycznia i lutego rozpoczną się prace. Obiekt już stoi, ale teraz trzeba tam zrobić biura, pomieszczenia dla mechaników, olbrzymie garaże dla ciężarówek i autobusów, myjnie samochodowe, magazyny na sprzęt, sale odpraw i wszystko, czego potrzebuje wielka grupa zawodowa. Widziałem projekty, wyglądają imponująco, a w rzeczywistości może wyglądać jeszcze lepiej. Powinniśmy się tam przeprowadzić w czerwcu.
Tak dobrych czasów dla polskiego kolarstwa nie było od dawna.
PIOTR WADECKI: Na pewno. Mamy ekipę w jednym z największych wyścigów świata, mistrza świata Michała Kwiatkowskiego, najlepszego górala Tour de France, czyli Rafała Majkę i kilku innych kolarzy w wielkich grupach. Nigdy w historii nie było takiego okresu, choć nie chcę wypowiadać się na temat czasów Ryszarda Szurkowskiego, bo gdy on osiągał największe sukcesy, ja się dopiero rodziłem. Mam jednak nadzieję, że to, co dzieje się teraz, oznacza lepszą przyszłość dla całej dyscypliny. Już widać większe zainteresowanie sponsorów, w środowisku mówi się o zainteresowaniu polskich firm kolarstwem, a to bardzo ważne. Może już niedługo zobaczymy nowe grupy. Albo stare pod nowymi nazwami.
Wy czujecie się pionierami?
PIOTR WADECKI: Trudno mi się wypowiadać na ten temat, choć jeśli mówimy o polskich ekipach to chyba tak, jesteśmy pionierami, bo żadna inna grupa nie brała udziału w takich imprezach, jak my. Przecieramy szlaki.
Pan też, jako dyrektor sportowy i jednocześnie selekcjoner reprezentacji Polski przeżywa najlepszy czas w karierze.
PIOTR WADECKI: Na razie rzeczywiście wszystko idzie dobrze. Gdyby tak ten rozpoczęty niedawno nie był gorszy… Wtedy znowu będzie świętowali.
Nie zazdrości pan swoim kolarzom, że doczekali takich czasów?
PIOTR WADECKI: Trochę tak. Fajnie byłoby wystartować w wielkim tourze w polskim zespole. Cieszę się jednak i jestem dumny mogąc poprowadzić ekipę. Odpowiedzialność jest ogromna, ale damy radę. Wierzę, że chłopaki pojadą tak, jak ich stać, a i ja mądrze tym pokieruję. Nie mogę się doczekać tego Giro. Już teraz wyczuwam w ekipie atmosferę motywacji i podniosłości.
Pytam, bo pan ciągle dobrze wygląda.
PIOTR WADECKI: Proszę nie żartować… Byłem dzisiaj na treningu z moimi zawodnikami i wygląda na to, że lepiej będzie, jeśli skupię się na jeździe samochodem. A jeśli mam wsiadać na rower to turystycznie i samotnie, powolutku. Za młodzieżą już nie wyrabiam.
źródło: przegladsportowy.pl