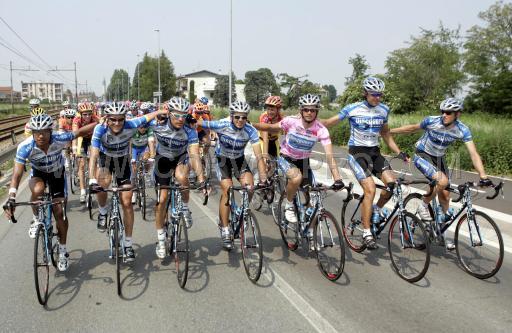 40
Powoli muszę dojść do siebie
… zebrać myśli i chęci do nowej pracy. Pozwoliłem sobie na chwilę relaksu bo mam miesiąc odpoczynku – przynajmniej od wyścigów. Od nowego tygodnia wznowię treningi, na razie jeżdżę spokojne tzn. przejażdżki maksymalnie 2-godzinne. Nadspodziewanie ciężkie okazało się dla mnie to Giro. Właściwie od samego początku czułem że nie kręci mi się tak jak powinno. Dna dotknąłem chyba na etapie do Limone Piemonte. Sprawił mi jednak trochę przyjemności fakt, iż kilku kolarzy (w tym sam "Ale" Petacchi) na następnym etapie podjechało do mnie pytając się czy już wszystko u mnie w porządku, czy odpocząłem, doszedłem do siebie.
Nieważne. Chociaż szkoda, bo praktycznie na niczym nie zależało mi tak jak na tym Giro. Ale takie są oblicza sportu wyczynowego. To było zdecydowanie najcięższe Giro ze wszystkich w których startowałem. Ale bez wymyślania ile to gór nie było, bo te naprawdę ciężkimi robią kolarze. Zależy to bowiem od poziomu zawodników na starcie, a w tym roku przez Pro Tour (o czym już wcześniej wiele razy wspominałem) poziom był bardzo wysoki co oczywiście jest jak najbardziej pozytywnie dla samego wyścigu.
Zaskoczyli mnie na Giro na pewno Basso i Savoldelli. Spodziewalem się, że będą mocni ale nie, że aż tak! Szczególnie Ivan na czas a "Savo" w górach. Największym jednak zaskoczeniem był Di Luca i to pewnie dla wszystkich. Damiano myślę że trochę zawiódł. Na koniec już nawet miał problemy z motywacją i koncentracją. Z naszej porażki myślę, że najbardziej cieszyli się kibice, bo tych akurat z tego co widziałem Simoni ma niewielu. Jak można było również zauważyć inni kolarze w peletonie też byli bardziej zadowoleni ze zwycięstwa "Savo" niż "Gibo". Przyznam, że u nas w ekipie panowała trochę pogrzebowa atmosfera po sobotnim etapie i w niedzielę. Ale cóż nie zawsze można wygrywać.
Nawiąże jeszcze na chwilę do soboty, a właściwie do Colle delle Finestre. Jak zawsze więcej opowieści niż prawdy. Po szutrze jechało się bardzo dobrze, podjazd nie był tam już tak stromy jak wcześniej na odcinku asfaltowym, gdzie praktycznie cały czas potrzebne było przełożenie 39 x 25. Przeszkadzały nam i to mocno samochody techniczne które czasem przejeżdżały z nadmierną prędkością. Za kilka dni powinienem być w Polsce. Żadnych planów startowych. Solidna, ale spokojna praca. Wznowię wyścigi od lipca. Najważniejsze to znaleźć znów motywację i wolę walki jeszcze większą niż przed Giro. Pozdrawiam i dziękuje wszystkim za kibicowanie w trakcie całego Giro.