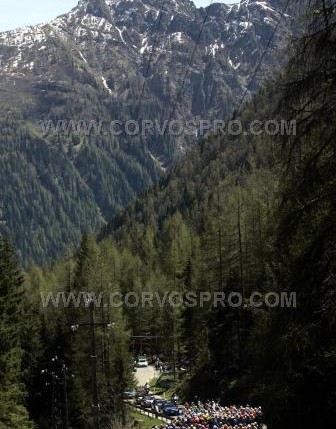 42
Ciężkie jest Giro w tym roku
Trzeba jeszcze dodać, że organizatorzy przesunęli godziny tak, że etapy kończą się późno w okolicy osiemnastej, jak na Vuelcie. Kolacja zawsze po dwudziestej drugiej i ciężko iść spać przed północą – ale to tak na marginesie z życia kolarza na wyścigu. Najbardziej mi dokucza właśnie brak chwil na odpoczynek po etapie, bo i dojazdy do hotelu z reguły też zabierają około godziny jak nie więcej.
Etap czwartkowy był pierwszym z górskich – początek prawdziwego ścigania. Taktyką naszą było mocne tempo pod pierwszy podjazd i tam ja miałem nadawać tempo. Ciągnąłem mało, więcej na kole kolegi. Zostało nas około pięćdziesięciu. Dalej pracowałem pod Passo Duran tzn. jej pierwsze 2-3 kilometry, a potem Sabaliauskas zrobił "wyciągarę" pod atak Simoniego. Tak miało być tylko, że potem tempa najlepszych (wśród, których ciągnął Darek Baranowski) nie wytrzymał Damiano, tracąc na szczycie już ponad 3 minuty. Na ostatnim podjeździe tempa Basso nie wytrzymał Simoni i na mecie był trzeci. Trochę nas sprali, ale powiem szczerze, że nikt się u nas w ekipie nie załamał się czy też zdołował. Przeciwnie, Gibo ma jeszcze większą ochotę do walki, a Damiano… właśnie, dziś trochę z nim rozmawiałem. Widać, że wbrew temu co mówi męczy się trochę psychicznie i nie jest do końca spokojny. Ale teraz musi udowodnić tak sobie jak i innym, że to był tylko zły dzień. Nasza ekipa zacznie atakować od jutra. Ja w odjazdy nie mam się zabierać. Moim zadaniem będzie Być przy "Gibo" i ciągnąć kiedy będzie taka potrzeba. Passo Erbe jest najcięższym z jutrzejszych podjazdów, Gibo musi atakować Basso, a my wcześniej mamy pozbawić Ivana wsparcia ekipy.
Dzisiejszy (dwunasty) etap był beznadziejny. Nie lubię takich. Jechaliśmy przysłowiowe 3 km/h przez połowę dystansu, nogi zamulone. Potem jak się grupa za sprawą Fassa Bortolo i CSC rozkręciła, to każdy hopek sprawiał ból. Ale takie właśnie są tego rodzaju etapy. Na szczęście mogłem porozmawiać z "Rybą". Obiecałem mu, że jak wygramy Giro to mu sprezentuję singiel Depeche Mode "Enjoy the silence" z żółtą okładką. Mało ich, więc trzeba na aukcjach szukać. Mam nadzieję, że mu ten prezent będę mógł sprawić!