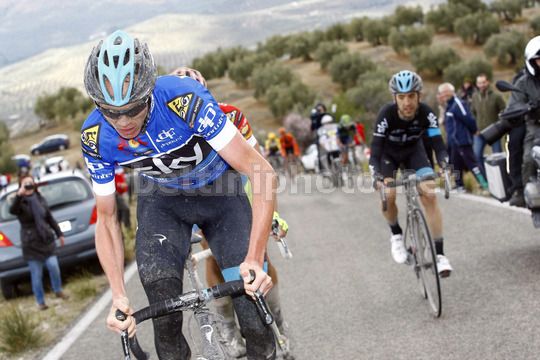 1 128
Sylwester specjalnie dla czytelników naszosie.pl
"Sylwas" do Chrisa Frooma, triumfatora etapu stracił zaledwie 59 sekund. Oto jak podsumował dzisiejszy etap:
Jestem bardzo szczęśliwy, dla mnie to fantastyczny dzień, kręcić z Contadorem i Froomem w czołówce nie zdarza się codziennie. Ostatnie 50 kilometrów koledzy z drużyny "przeciągali" mnie do przodu, osłaniali od wiatru, na koniec Maciek Paterski wypracował świetną pozycję do finałowego podjazdu. Chciałem jechać razem z najlepszymi i jechałem. Cieszę się z czwartego miejsca, lepiej być czwartym, niż dwa razy dziesiątym.
Zaczynając wyścig chciałem powalczyć o klasyfikację generalną, jednak na pierwszy etapie miałem kraksę, drugi to czasówka. Na trzecim zabrałem się w odjazd licząc na to, że finałowy podjazd rozpocznę z przewagą półtorej, dwie minuty nad czołówką. Wyszło inaczej, trudno. Jednak szybko się zregenerowałem i dziś mogłem walczyć z czołówką. Nie szedłem "fulla", ten wyścig traktuję jako bardzo dobra forma treningu. Wierzę, że forma będzie stabilna, wiadomo mój cel w tym sezonie jest inny, tym bardziej się cieszę, że w lutym kręcę już z czołowymi kolarzami świata.
Zapytany o atmosferę w zespole powiedział:
Atmosfera w grupie jest super, co najważniejsze mam spokojną głowę. Wiem co mam jechać i mam pełne wsparcie drużyny. Jestem liderem, na plecach mam "jedynkę", a wiadomo to motywuje.
Z kolei tak wyglądają plany startowe Sylwka przed Giro d'Italia:
Po Andaluzji będę kontynuował przygotowania do dalszej części sezonu, 19 marca jadę włoski klasyk – GP Nobili, następnie Mediolan – San Remo i następnego dnia prawdopodobnie polecę na Vuelta a Catalunya. W kwietniu zamiast w Giro dell Trentino pojadę Tour of Croatia, ponieważ jest to wyścig dłuższy, składający się z sześciu etapów i będzie dla mnie lepszym "przepaleniem" przed Giro. Ostatni sprawdzian przed Giro to "Frankfurt".
Zapytaliśmy też o cel na Giro d'Italia:
Na pewno nie stać mnie na pierwszą piątkę, trudno mi będzie nawiązać walkę z Contadorem, Aru czy najlepszymi, którzy pojawią się we Włoszech. Piętnaście lat jestem zawodowcem i wiem na co mnie stać, będę celował w pierwszą dziesiątkę "generalki". Jeśli nie wyjdzie, będziemy myśleć o zwycięstwie etapowym. Fajnie by było wygrać etap, bo jak wiadomo, bardziej pamiętamy zwycięstwa etapowe niż np. siódme miejsce w klasyfikacji generalnej wyścigu. Doskonałym przykładem może być zeszłoroczny sukces Przemka Niemca, wszyscy pamiętamy że wygrał etap Vuelty, niż to na której pozycji zakończył ściganie.
Rozmawiał Marek Bala